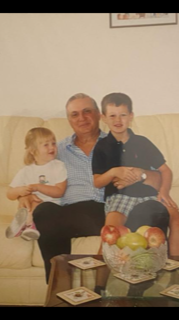 John Galatis
May his memory be eternal.
All members of the Prophet Elias Greek Orthodox Community were saddened to hear of the passing of our dearest John Galatis on 22nd December 2021, at the age of 80.
John and his wife Cyndy had been regular churchgoers to Prophet Elias for over thirty years. The elegant, tall, dignified figures of this inseparable couple, made them stand out in the congregation, always following the services with deep faith and reverence.
John was born in Limassol in 1941, the fourth of seven brothers. In 1961 he came to England to study and qualified as a Civil Engineer. He met beautiful Cynthia, they fell in love and got married in 1966. Their daughter Julia was born in 1970 and their son Paul three years later. John became an executive in the multinational company 3M based in Bracknell, where he worked until his retirement.
It was during the after-service coffee and snacks gatherings in the church hall that we got to know John and Cyndy. We enjoyed having a chat with this friendly couple, exchanging ideas, news from Cyprus, Greece and the world. Their faces would light up on the mention of their lovely grandchildren. It was there that Nick told John that the apostolic reading that Sunday, Paul to the Galatians, was meant for him! They had a good laugh over that and every time Epistle of Paul to the Galatians was read by Elias, Nick would look towards John with a glee and John would acknowledge this "honour" with a smile!
John and Cyndy used to go to their house in Limassol twice a year and come back to church with copious supplies of commandaria wine for the Holly Communion and other items for our church. After noticing that the books of the Greek School were being moved from the school to the vestry and back every time there were classes, John thought this unacceptable. Being a practical and generous man, John promptly delivered three bookcases to the school which had been gratefully received. It was such a useful addition to the school, for not only arranging the books in their rightful place but enabling it to provide a lending library too! It should be mentioned that Cyndy was an active member of our St Katarina's Ladies charity for many years.
We were very concerned when John suffered ill health while in Cyprus, soon after his retirement and returned to England for treatment. Yet, a month or two after his operation and throughout his treatment, John would attend our services, a little frail, but fighting bravely against the ruthless enemy, winning several battles and recovering his strength.
For the past four to five years we had not seen John in church. We heard that he dedicated his time looking after his beloved Cyndy whose health was slowly failing. We had missed John and Cyndy, their reassuring presence in church and their cheerful disposition.
Sonia, a long standing parishioner, related how John and Cyndy brought sunshine to the coffee gatherings with their warm smiles and their positive look at life. She reminded us that ten-years ago John and Cyndy had returned from Cyprus and told us of the joy they felt in renewing their vows after forty five years of a happy life together and showed us the photos of their memorable day. Sonia added that John and Cyndy felt belonging to and being an integral part of our Prophet Elias family who attended not only the services but most of our social events and activities including dinner dances and our Patron Saint's feasts. Sonia concluded, "They were a very gracious and loving couple".
All members of Prophet Elias who knew John speak with admiration and fondness for him. John Galatis will be remembered by us all for the Greek-Cypriot leventis and a real gentleman he was, with a heart of gold.
We express our heartfelt condolences to his family.
May John's memory be eternal.
Nick and Fotini Vergottis,